Crispin's Guide to Stirling Cycling – Extended Tours
<![if !supportEmptyParas]> <![endif]>
Tour of Wester Ross
Crinkliest of the crinkly bits                      June 2002
<![if !supportEmptyParas]> <![endif]>
Thanks to good Queen Bess sitting on the throne for 50 years, and the celebrations that accompanied this, I was able to manage eight days away in return for handing just three days worth of "leave tokens" to my boss.
<![if !supportEmptyParas]> <![endif]>
Catching an early Saturday morning train from Stirling, I was in Inverness by late-morning and soon heading on quiet roads through Strathglass towards Cannich Youth Hostel – where the beds were still as creaky as on my first visit twelve years before.  Sunday saw me towards the hostel at Strathpeffer, which was relatively quiet due to the fact that the SYHA had announced that it was closed.  My challenge for this day was to make sure that I could find a TV to watch England's start in the World Cup.  At lunchtime a bar was duly located in Beauly and my entry was greeted with a cheer as my yellow top marked me out as a Swedish fan.  I soon corrected that misconception.  Monday was a tour of the Black Isle – bunting was being put up at Conon Bridge, but heavy rain was dampening festivities, and obscuring the oil platforms in the firth, as I approached Cromaty.  After dripping in a tea-room for an hour or two, I headed out into sunshine and followed the hilly NCN route along the south side of the Isle.   That evening I acted as cultural ambassador for my generation, explaining the life and meaning of Ozzy Osbourne to my fellow inmates watching the Jubilee concert on the hostel TV.   
<![if !supportEmptyParas]> <![endif]>
Tuesday dawned bright and sunny.  The hillwalkers had headed home, and Torridon hostel had a bed reserved for me.  Morning tea was taken in Achnasheen before heading towards the west coast in glorious sunshine.  Then I noticed for the first time, a small track was marked on my road map, linking Achnashellach Station and Coulin Lodge.  Looks fun, I thought and so changed my plans for the day.   Pushing my bike up the rough track from the station, I wondered if any car drivers were misled into tackling this route.  If I had known that George Berwick had been this way just a month or two before, I would have done the whole route on my knees, but ignorance can be a wonderful thing.  Stunning views opened out – as my rain jacket was put on, taken off, sunblock applied, and my rain jacket put back on and  taken off a couple more times.  The Torridon ridge appeared as I alternated riding and pushing round Loch Coulin.  Too soon I rejoined the single-track road underneath the Torridon hills and faced a mass of cars squeezing their way through the passing places.
<![if !supportEmptyParas]> <![endif]>
<![if !vml]>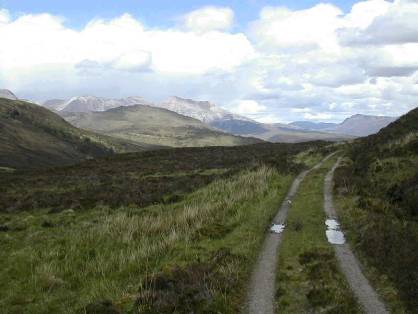 <![endif]>
Coulin Pass to Torridon
<![if !supportEmptyParas]> <![endif]>
<![if !vml]>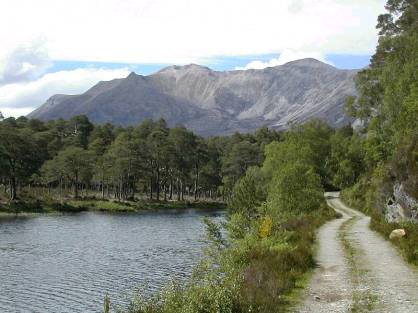 <![endif]>
Loch Claire, Coulin Pass
<![if !supportEmptyParas]> <![endif]>
Craig beckoned on Wednesday.  But first a gentle ride to Shieldaig and back, stopping to take photo after photo as the cloudless sky and bright sunshine persuaded me to linger.  After lunch at Torridon, and more sunbathing, I headed on the narrow, twisting, climbing road to Lower Diabaig.   Four kilometres of narrow track separated me from my bed for the night.  I had first heard about this route back in 1995 and was now starting to wonder why I had listened.  Narrow and rocky, I was often forced to carry the bike and then return for my panniers.  After a couple of hours of hard labour, with no riding, I finally reached the hostel.  All the effort was now worthwhile.  A quick wash in the burn, known with good reason as the Jacuzzi, and it was time for dinner.  Daniel, the volunteer warden, had cleaned mussels for that evening's meal – which was supplemented with contributions of rice and anything else that looked like it would cope with being boiled.  The evening was spent making our own entertainment and putting the world to right.
<![if !supportEmptyParas]> <![endif]>
<![if !vml]>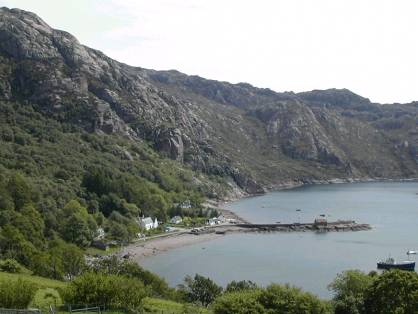 <![endif]>
Lower Diabaig
<![if !supportEmptyParas]> <![endif]>
<![if !vml]>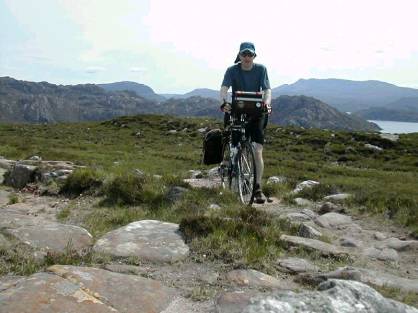 <![endif]>
Pushing to Craig
<![if !supportEmptyParas]> <![endif]>
<![if !vml]>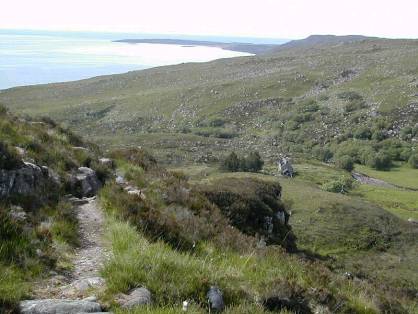 <![endif]>
Craig hostel
<![if !supportEmptyParas]> <![endif]>
Yet another sunny day dawned to greet me for my push up the coast to Redpoint.  On greeting me the day before, Daniel had immediately stated, "You'll love tomorrow".  He was right – it took five hours to cover the 7 km.  Too many times I had to lift the bike above my head, climbing with it through the rocks, before returning for my luggage.  Thoughts of Lady Macbeth being too deeply steeped crossed my mind, but eventually I reached the fishing station and picked up first the track and then the road to Gairloch.  My destination was the independent hostel at Rubha Reidh Lighthouse, at the end of the peninsula beyond Gairloch, with the long and winding road making a delightful end to a very hard day.
<![if !supportEmptyParas]> <![endif]>
<![if !vml]>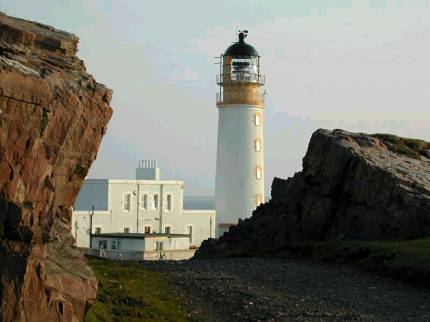 <![endif]>
Rubha Reidh Lighthouse
<![if !supportEmptyParas]> <![endif]>
I awoke to yet more sunshine and intense heat.  I felt subdued for today was the big day – England versus Argentina.  Stopping to obtain water at every opportunity, I did my best to enjoy the scenery and the strong headwind, which slowed me to walking pace on the climbs, as I rode along very much aware that I could not influence the goings on in Japan.  Oh, how I envied McNasty and his pocket radio.  A wee coffee shop was reached in mid-afternoon, where I sent the wifey inside to get the result from her husband.  Safe in the knowledge of an England victory, I could then enjoy a pot of tea and slice of cake before battling on to complete the 70 miles to Ullapool. The evening was spent in the Youth Hostel TV room, chatting to the other hostellers as we sweated and swore our way through the match replay. 
<![if !supportEmptyParas]> <![endif]>
Destination Colditz.  The SYHA would rather I called it Carbisdale Castle, but those that have been there will know of what I mean.  Imposing views, art galleries, 200 beds and coach loads of foreign backpackers scared to venture more than a few paces from the minibus door.  But first a ride on deserted roads, with Stac Pollaidh and Cul Mor for company, before turning onto an even more deserted road to Oykel Bridge.  I stopped at the fishing hotel for a cup of tea and was roundly ignored by the staff.  Another reason not to take up fishing. Salmon were running the falls at Invershin – with a shiny visitor's centre built since my last visit – and I was delighted to discover that I no longer have to trespass on the railway to access the youth hostel, a foot bridge having been built. 
<![if !supportEmptyParas]> <![endif]>
<![if !vml]>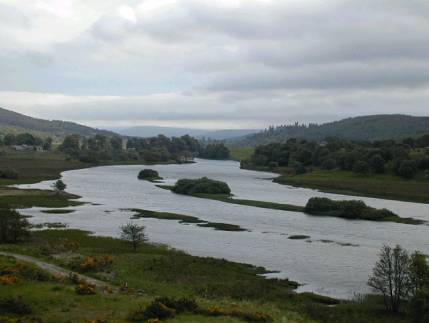 <![endif]>
Carbisdale Castle
<![if !supportEmptyParas]> <![endif]>
<![if !vml]>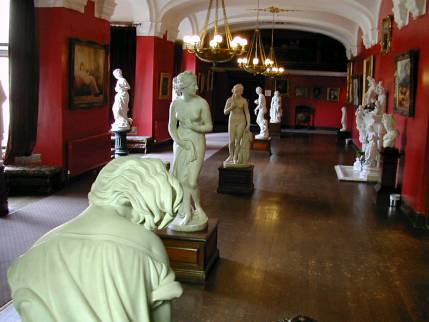 <![endif]>
Art gallery at Carbisdale Castle
<![if !supportEmptyParas]> <![endif]>
Why is it that the biggest hostels are also the loneliest?  But seek and you shall find.  I amused myself for an hour or so by listening into the conversations of terrified American Haggispackers, but then stumbled across two cyclists.  Mavis was cycling the entire National Cycle Network for charity on a rattly-and-not-really-up-to-the-task-but it-will-do hybrid and was accompanied for the weekend by her friend Chris.  As the warden fixed Mavis' bike's rack, we exchanged stories and the evening flew by.
<![if !supportEmptyParas]> <![endif]>
The final day and Inverness beckoned.  Managing to avoid main roads for most of the route, and stumbling across a fine tea-shop near Tore on the Black Isle, I was disappointed to have to pull on my waterproof as I approached Inverness.  Maybe it always rains on the Black Isle I wondered?  A quick tour of Inverness, a final postcard to my sister (oops – I didn't mean not to put a stamp on it), a long train journey home, and only 5 days to my next tour!
<![if !supportEmptyParas]> <![endif]>
© Crispin Bennett 2003
<![if !supportEmptyParas]> <![endif]>
Crispin's Guide to Stirling Cycling – Extended Tours
<![if !supportEmptyParas]> <![endif]>
<![if !supportEmptyParas]> <![endif]>